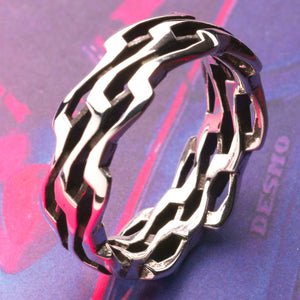 The Warp ring features an 8mm wide band in .925 Sterling Silver with wave pattern built from a hexagonal pattern originally. I then selected certain parts of the pattern and offset them outward to create the zig-zagging effect. Lastly I put a 45 degree twist to give the zig-zag a more wavy feel.
If you are unsure of your size but are sure this is the ring for you, select the "I'm not sure - Send me a free ring sizer" option and place your order. Once you receive the sizer let me know your order number and preferred size through the chat function on the bottom right side of my page and I will get your ring started immediately!
These are custom made so please allow two weeks for delivery.