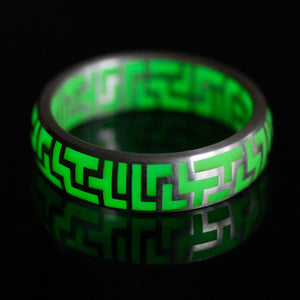 This is a glowing version of my original Tetricycle design and is inspiration from Alexey Pajitov, the creator of Tetris. He named the game after the Greek prefix Tetra (four) and his favorite sport (Tennis). Here is my version, The Tetricycle, where I replace Tennis with my favorite activity, Bicycling.
The Glowing Tetricycle is available in 6.5mm width and is ONLY available with green lume. Green lume glows the brightest. I have worked with different brands over the past five years and NO other lume glows as bright or as long as green. I do not offer any other color because I don't want customers to be disappointed.

If you are unsure of your size but are sure this is the ring for you, select the "I'm not sure - Send me a free ring sizer" option and place your order. Once you receive the sizer let me know your order number and preferred size through the chat function on the bottom right side of my page and I will get your ring started immediately!
This ring is custom made so please allow three weeks for delivery.